Skye

Basecamp is our climber inspired bunkhouse on the Isle of Skye!
Only beds in the immediate few days and weeks are available through our on-line system.
We explain why here- Book Now
Please contact us directly to book between July & October.
Under 16's by arrangement only sorry.
---
Skye Basecamp, Broadford, Isle of Skye
Providing a base for folk who have come to enjoy outdoor sports on the Isle of Skye

Great facilities including power showers and a fabulous drying room

Good craic with knowledgeable staff

Like-minded active guests, exchanging tales and ideas of what to do

Stunning views out across Broadford Bay & Northern lights if you're lucky

Shops, bars and restaurants all in easy walking distance
Great reviews- 9.7 on Hostelworld in 2022
---
Skye Basecamp is a hostel offering a choice of beds in small, shared dorms and private rooms.
Our advertising is aimed at the outdoor enthusiast but we always welcome anyone coming to appreciate the diverse nature, wilderness and beauty of Skye. Skye time is special and we encourage guests to immerse themselves rather than "ticking the box".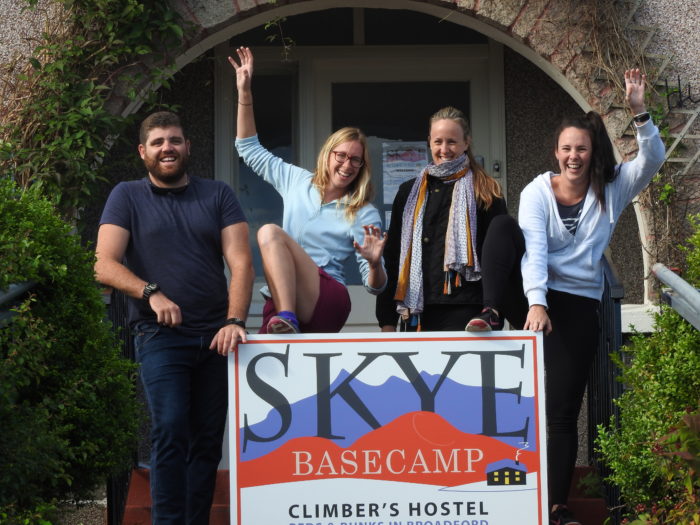 Many guests extend their stay when they realise how amazing the experience is and just what a delux place Skye Basecamp is to stay 😉
Our facilities reflect this with a large, well equipped, self-catering kitchen, bespoke drying room, power showers & strong wooden beds.
Get a taste of Basecamp Life
---
Skye Basecamp is run by Skye Guides, the island's biggest mountain guiding company. We offer a range of services similar to mountain guiding bureaux in the Alps. Our office operates from Basecamp and guides are always around for free advice on conditions and routes. It is best to book in advance but outings can be arranged at short notice.
The Black Cuillin are the best mountains in the UK. It is the only truly alpine environment in Britain and has been a mecca for climbers and walkers for over 150 years. There is also superb rock climbing right around the 1000 mile coast-line.
>>Booking a guided day out with Skye Guides