Welcome to Skye Basecamp
Here at Basecamp we pride ourselves on offering you a warm welcome, a safe stay & home from home comfort!
Our great facilities in Skye Basecamp will suit walkers, climbers, paddlers & all those who love the great outdoors.
Covid-19 Booking arrangements
Please note: our availability calendar is currently closed- we are accepting bookings by email enquiries only.
Please enquire to bookings@skyebasecamp.co.uk and include a contact phone no.
3rd July 2020 onwards
During the first phase of reopening we are only open for exclusive use with a minimum of 3 night stays. To book you must be a single family group or a "family bubble". There is a maximum capacity of 28 spread
across

5 rooms, 2 of which are en suite, smaller group enquiries are also welcomed.
Exclusive use of the hostel for a single family group or a family bubble
Perfect for family get togethers after such a difficult time!
Amazing mountain & sea views
Large kitchen dining areas, drench showers
Walking distance to all amenities
Plenty space to spend time together but also to find a quiet space to relax
For more details and to book please enquire by email to bookings@skyebasecamp.co.uk & include your contact phone number
15th July 2020 onwards
As restrictions are lifted in accordance with government guidelines we hope to be able to expand our availability to different groups in private rooms. The following procedures will be in place reflecting current guidelines but are subject to change as new announcements are made by the Scottish government.
Shared use of kitchen, dining, common areas with social distancing
Time slots for use of self catering facilities
Maximum numbers in lounge and dining areas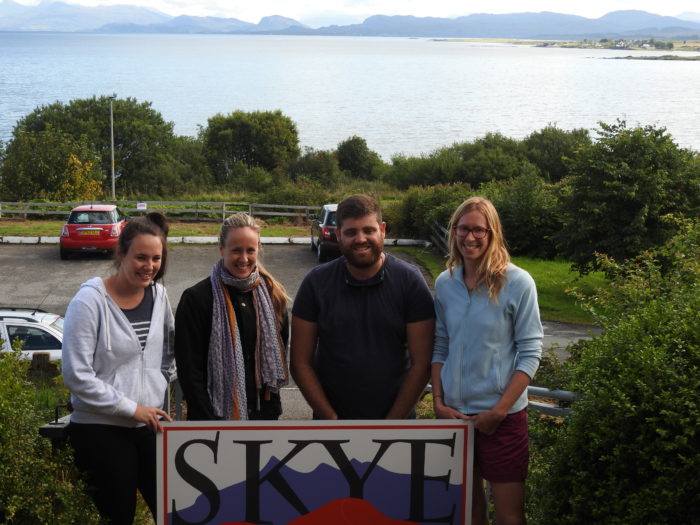 Hot showers, comfy beds and a good drying room are the key elements
but you'll find a whole load of other reasons to stay with us.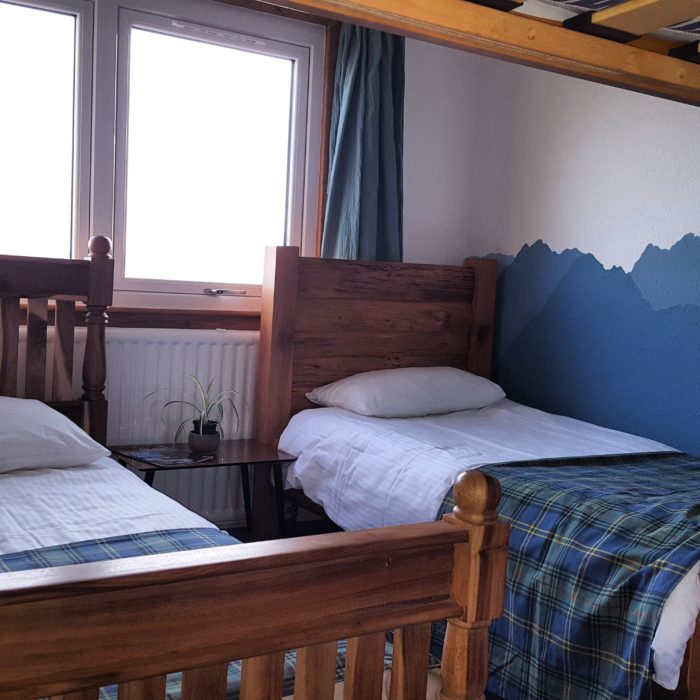 The kitchen diner is a large open plan space with everything you need to create culinary masterpieces for sharing or making us all jealous! Great for large party catering.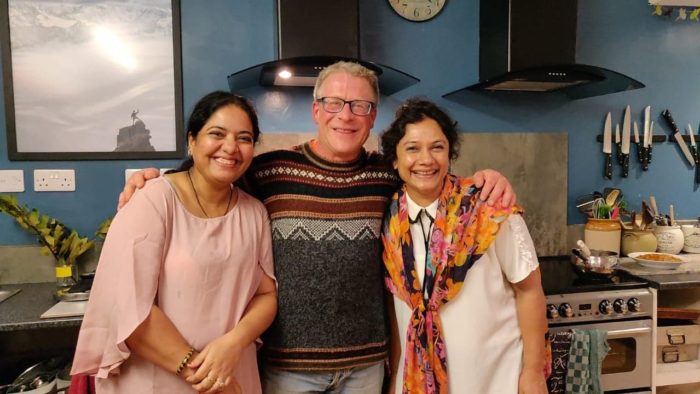 The stunning view out over Broadford Bay dominates the living room with its Chesterfield couches & friendly atmosphere. There's a pool table in the adjacent conservatory and, of course free Wi-Fi available to keep updated with your news!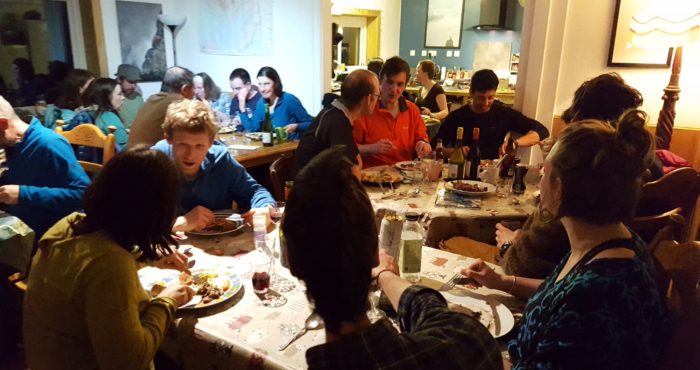 Broadford is right on the main A87 trunk road and only 10 minutes drive from the Skye Bridge. We are right in the centre of town with shops, restaurants and pubs all just a 2 minute walk from our front door. This is very much a rural setting however and a 2-minute walk leads to the beach where otters and other wildlife are commonly seen.
Get to know the owners
Basecamp is run by Skye Guides, the island's biggest mountain guiding company. We offer a range of services similar to mountain guiding bureaux in the Alps. The office is run from Basecamp and guides are always around for free advice on current conditions and route details. It is best to book your expedition in advance but outings can be arranged at short notice. This link provides some answers to frequently asked questions- FAQ
The Skye Cuillin is the only truly alpine environment in Britain and has been a mecca for climbers and walkers for over 150 years. There are also superb climbs right around the 1000 mile coast-line.